Casper & Phoebe Booher Homestead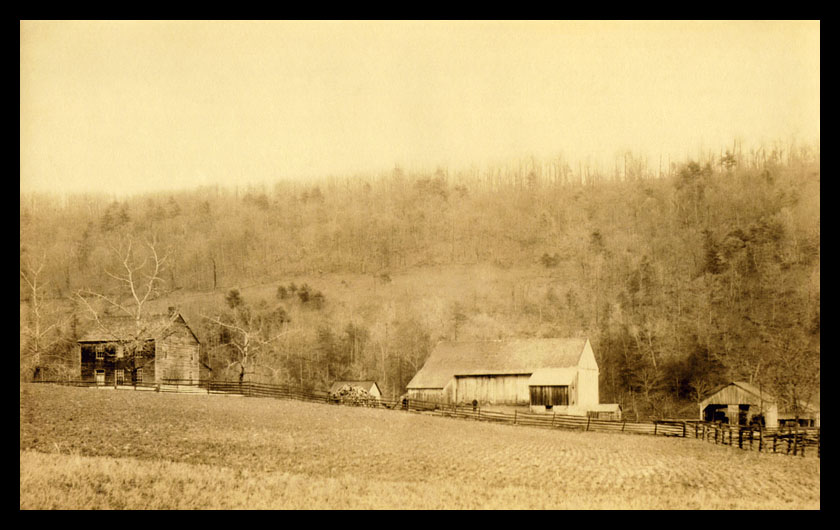 Based on early tax records, Casper and Phoebe Booher arrived in Shirley Township, Bedford (now Huntingdon) Co., Pennsylvania about 1783. It is not known for sure whether they immediately settled on the exact plot of land in Hill Valley that became associated with the family over the next 145 years, but it is likely they were there soon after their arrival. As many as four of their seven children may have been born there.
The property straddles Route 747, two miles south of downtown Mount Union, where the state game road heads off west towards Jack's Mountain.
After the death of Casper in 1831, the land passed to his son, John, who died only two years later. John Booher, Jr., who was born on the farm in 1818 eventually came to own the land; he farmed and lived there for the next 60 years until his death in 1893. William Ambrose and Ernest Luther, sons of John, Jr., continued to operate the farm until the beginning of the Great Depression in 1929 when it was lost to foreclosure. (The picture above was taken in the early 1900's while the farm was possessed by the two brothers. Chestnut Ridge is in the background.)
After the foreclosure, the property was purchased by Charles Stitt. Some time later, Murphy Corfman developed a portion of the site into the "Hill Valley Hotel," which would become a well-known country tavern with a less than stellar reputation. In 1955, Peter George purchased the property including the tavern which he operated for the next 50 years until his death in 2006. The "Hotel" was sold and for a short time became "The Roadhouse on 747," a bar and eatery that catered to hard rock music fans. Currently (summer of 2011), it is the home of "Ronnie's Place," another bar and eatery. Of the remaining property, all of the area west of Route 747 towards Jack's Mountain and part of the area east of Route 747 towards Chestnut Ridge has been subdivided and sold off for individual homes. The rest remains in the hands of Mr. George's family.
A recent image of the portion of the property seen in the first picture is shown below.